Trip Report: Trinity River (Pigeon Point)
We had an excellent Trinity River trip back in the late summer of 2002. We ran the Pigeon Point run down to Big Flat campground where we setup camp for a long weekend.
California Creeks has a good mile by mile description.
- Me on the Trinity River - Dagger GT
The US Forest Service has some good resources to help you plan your trip that include camping information. There aren't many (or any) stores near or around the Big Flat Campground to speak of, so be prepared to plan and to bring most of what you need. Otherwise check out the store situation for yourself in case something has opened since I visited, so be warned! You might get stuck with a long drive to get supplies.
As you'll see, the Trinity area is absolutely beautiful with warm, clear water in the summer. On one early AM run we had the river to ourselves and all of the wildlife was still out on and around the river, it was very cool. This isn't a long run, so you can either take your time and play on the way down or you can actually run it once in the AM and again after lunch. Since we camped at the public campsite at Big Flat, it is right at the takeout and in fact you can carry your kayak up across the road to your tent. A little bit of a hike, but not a big deal. There is a private campsite right below that on the river, it seemed crowded and noisy to me and so I much preferred our location on the uphill side of the road.
Depending on the drive, this may be too tame for those who are more experienced, but I think it is an excellent intermediate run. This was my second season on the water so it was a good skills fit.
Here is a video of one of my seal launches, I love 'em....!
Hell Hole is the one Class IV rapid that you can portage easily and run over and over again, just like a roller coaster. It's a crazy couple of fast moves into a big zero consquences pool. This movie doesn't do it justice since you don't see the whole rapid, but you get the idea. I try desperately not to roll, but don't quite succeed...
Here are some other stills of the trip, unfortunately I don't have any of the other significant rapids.
- Dan & Kevin B
- Kevin J gets on a wave
We found an excellent spot for a seal launch and entertained the river for while....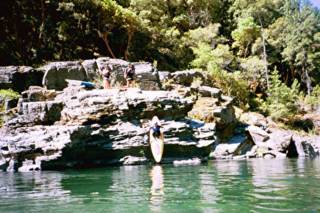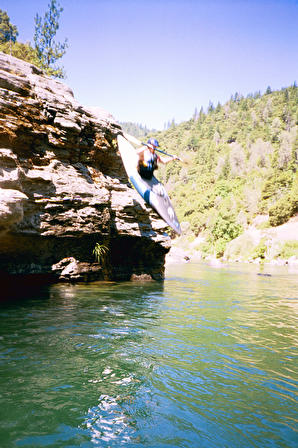 - A couple of other launches.
- Tatiana strikes a pose
- The group (Kev B, Tatiana, Diego, Kev J and Dan) get together for a shot, with me behind the camera.